RareMall Token (MALL) at a glance!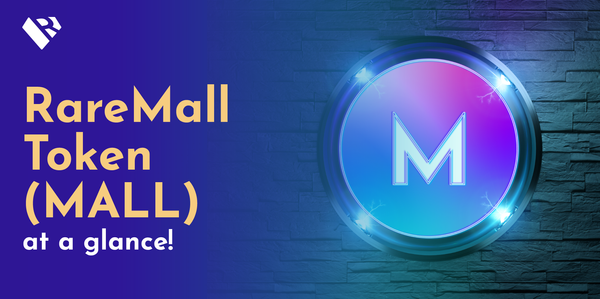 RareMall plans to provide both creators and customers with the ability to easily access to top trending NFTs products, which makes it an alluring NFT marketplace for every NFT trader. RareMall also benefits those who are our stakeholders (investors, NFT sellers, buyers, and crypto traders) through tokenizing online products into NFTs for monetization.

Introduction of MALL Token
RareMall will be governed and supported by native and fungible MALL tokens. MALL is an ERC-20 based token created on Binance Smart Chain and can be used in a wide range of activities.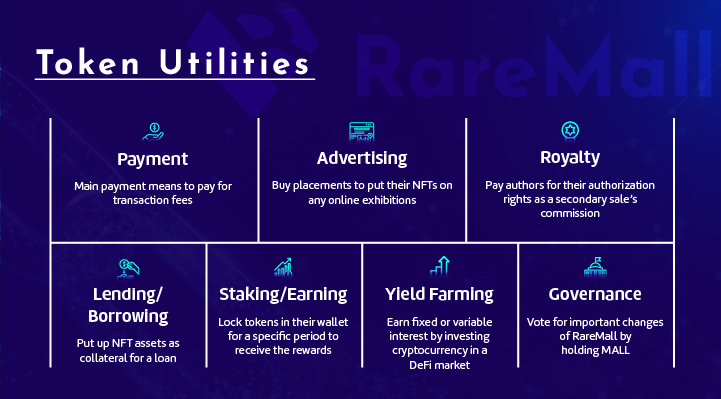 Payment: MALL is the main payment unit to pay transaction fees on RareMall.
Advertising: MALL holders can use MALL to buy placements to put their NFTs on any online exhibitions.
Royalty: MALL tokens are used to pay authors for their authorization rights as a secondary sale's commission.
Lending/ Borrowing: Holders can put up NFT assets as collateral for a loan.
Staking/ Earning: Holders can lock tokens in their wallet for a set amount of time to receive the rewards.
Yield Farming: Holders earn fixed or variable interest by investing in a DeFi market.
Governance: MALL holders have the right to vote for important changes of RareMall
Token Distribution

Token Sale:: 200,000,000 Representing 20%
Liquidity Fund: 50,000,000m Representing 5%
Staking Reward: 100,000 Representing 10%
Future Reserve Expansions: 100,000,000 Representing 10%