How does RareMall bring a revolution to NFT Market?
The market for NFTs has blown up this year. In stark contrast to January sales ($8 million), the sales figure in February skyrocketed to $95.2 million. According to this, at this moment the number of NFT markets is also over 55 platforms as well as about 10 projects around the world are planning to launch.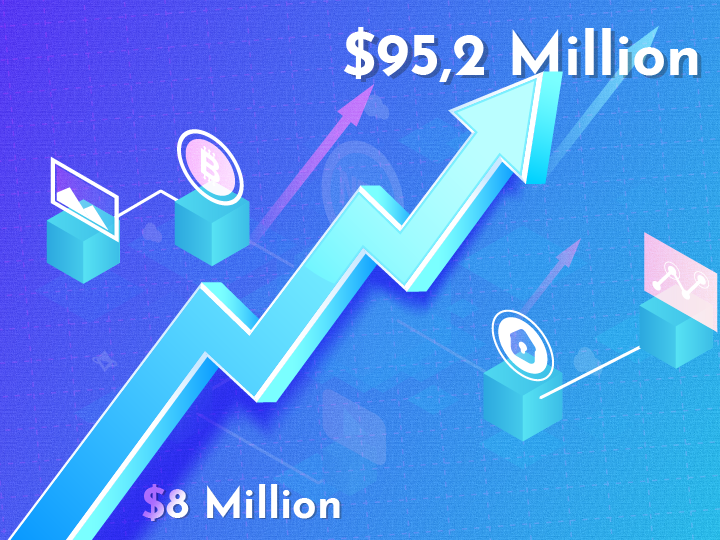 With the aim of improving user experience, facilitating every transaction and trying to learn more about user insights so that we can place more value on emotional and monetary sides. Our goal is to become the pioneer in bringing about these spiritual uniqueness for all users by building the SOCIAL MODE on users' newsfeed, profile and collection page.

Outstanding features that make RareMall actually a worthwhile NTTs marketplace
To become one of the leading NFTs marketplaces that offer users spiritual values as well as other advanced features, RareMall owns the following attributes:

What we do better than other marketplaces
Complete synthesis of all DeFi Functions: All DeFi functions have been integrated into the RareMall platform to boost the liquidity of decentralized exchange transactions consisting of lending, borrowing, earning, staking, etc. In addition, RareMall's Native Token also provides more services for stakeholders than any other NFT Tokens.

VR & AR Support for Digital Assets Display: RareMall offers VR & AR display rooms for digital objects including Game Items, Digital Arts, Motion Cartoon Characters and others.

Variable mechanisms to set price of assets: The platform has an NFT pricing standard to support sellers and buyers to estimate the value of virtual assets in an accurate way.

Appealing product pages, category pages, collection pages: RareMall focuses on helping users to explore the NFT world in a variety of fields, types, and styles. We are onto creating the best aesthetic-usability experience.

Clear authorized & Privacy Policies: The platform verifies users' information with their photos and personal info in a secure process. For security purposes, users can choose a password-based 2-factor authentication option to protect their accounts from security threats.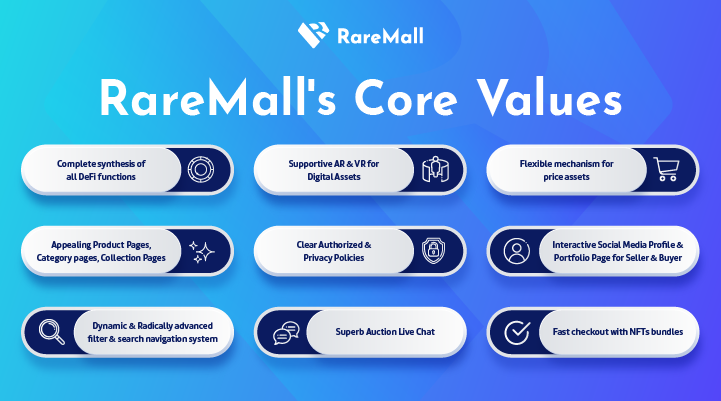 What are our unique features?
The best ever filter & search navigation system: RareMall proposes a dynamic & radically advanced technique for analyzing, aggregating, and extracting market data for users to help them discover TOP trending NFTs products.

Boost transaction effectiveness with NFTs Bundles: To speed up the selling and buying process, at RareMall users can purchase a maximum number of 10 NFTs in one time by adding them to the cart. They also have to pay for all of these items with just one time of linking to their wallet.

User-friendly interface: With the vision of being a platform and community that honors a person's talent and creativity, the user profile of RareMall is similar to those of social media. This feature enables users to personalize themselves by featuring their own biography, vision, their work and enjoy meaningful interactions with other users.

Live chat during an Auction: One of the most effective impacts of Auction live chat is to form a FOMO effect, which means participants in an auction will feel the urgent need of buying an NFT if there're so many people trying to get it. Understanding that effect, RareMall has set up a secure and user-friendly live auction chat. With this feature, sellers can create a public chat group among bidders during an ongoing bid.
To sum up, market demands for NFTs transactions require more marketplaces with radical advances. RareMall can serve this growing need, allowing users to have the best experience of creating, buying and selling NFTs.