AMA Recap: RareMall NFT Marketplace| Community Q&As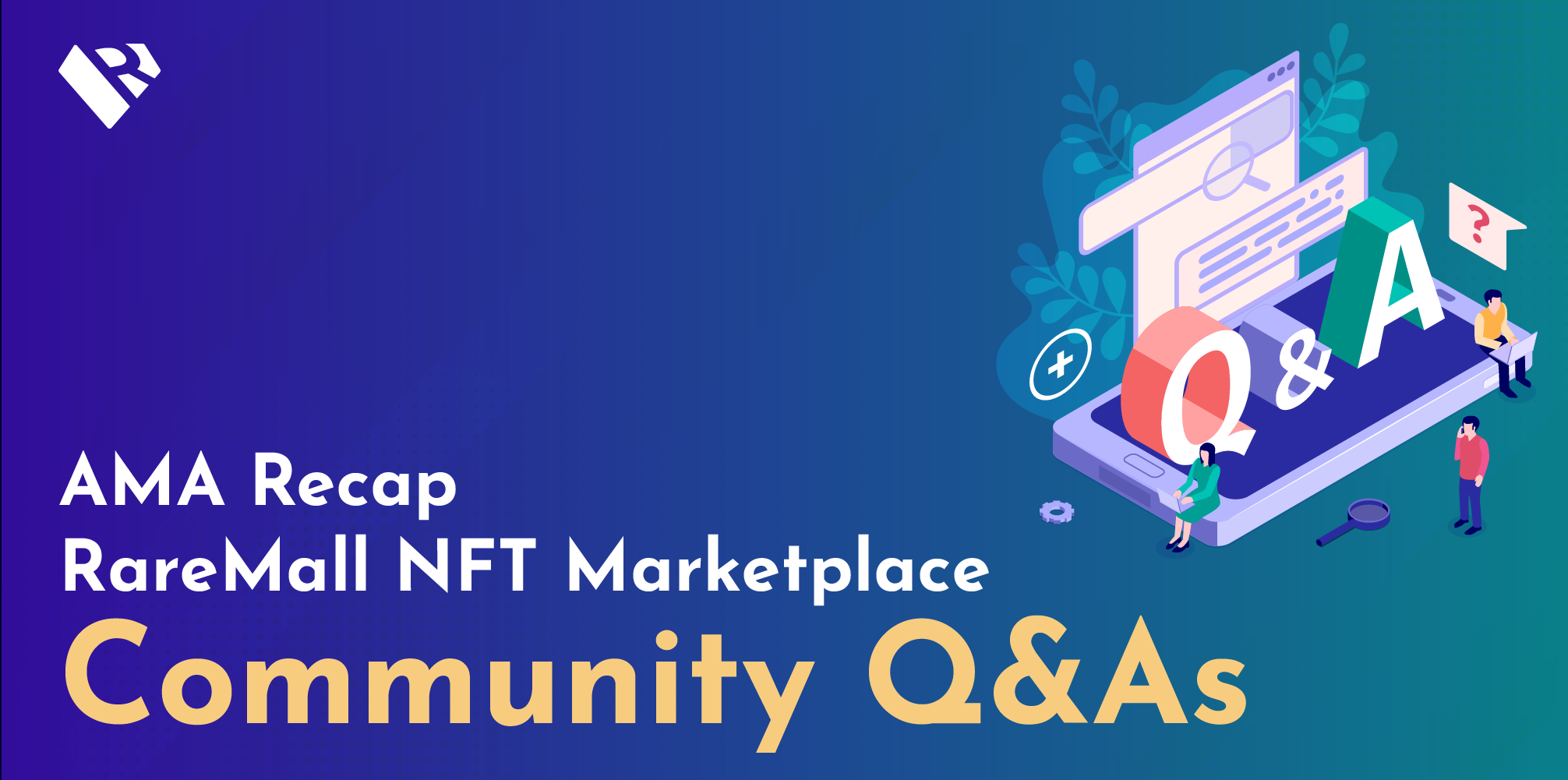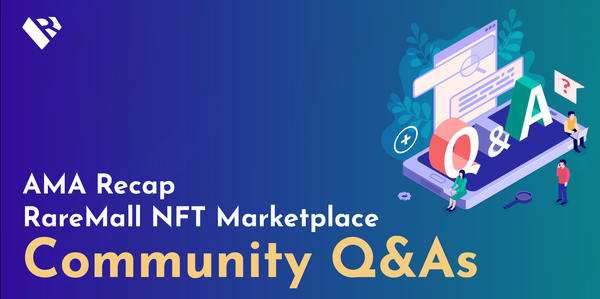 We just held an AMA on our Telegram Community to answer supporter's questions to let them know our RareMall Marketplace better.

🗓 Thursday, August 26 at 1:00 PM (UTC)
📍 Venue: /t.me/raremall_nfts
🎁 $200 worth MALL tokens For 10 Random & Best Questions

We are delighted to receive interest and more than 600 questions in 8 minutes. Ms. Iris - Cofounder & Ms. Mint - Product Manager chose 10 random questions to respond quickly.
---
Q1: Can you briefly describe your PARTNERSHIP so far and upcoming partnerships?
Iris Le: We already and are in process of partnering with creators, collectors, crypto news and especially the KOLs of NFTs, so that when our product launches, they will experience and give the feedbacks.
In the long run, we will partner with other platforms of NFTs, Social media, gaming company and so many other potential partners to help RareMall grow faster!
Q2: Which one of these aspects is important for you?
1-Increasing Token Price & Value
2-Empowering Platform Development
3-Building Community Trust
4-Expanding Partnership Globally
In what order?
Iris Le: Our first goal in 2-3 months later is product development. All of the monetary and spiritual value will come from our NFT Marketplace, if it's good and drives more revenue and traffics, it will bring more value in terms of increasing token price, trust of our community and there will be definitely more partnership coming to us.
The most important factor is our community. We want to understand more about you, your demands, your expectation to let us think about features, activities.
Q3: What are the main features of the project and how was it developed? Where does its core competitiveness lie? What advantages does it have that allow it to stand out in the market?
Mint: Hi Sophie, thanks for your interesting question. Basically, RareMall is a NFT marketplace, so our target is to provide a sustainable market that buyers/sellers can trade easily on our platform. Besides, other main features will be followed by our quarterly objectives. Eg: Social Mode is one of our main features that is different from other marketplaces. Stay tuned and hope you will enjoy it when it launches
Q4: Can you list 1-3 killer features of this project that makes it ahead of its competitors? What is the competitive advantage your project has that you feel most confident about?
Iris Le: Our killer features make us so confident:
🚀 SOCIAL MODE for user profile, collection and newsfeed
🚀 NFT Auction Live Chat => Boost more engagement and transaction
🚀 NFT Bundles Purchase => Save your time to make payment
Q5: Smart contracts are vulnerable to bugs, and even recently three big new DeFi projects were victims of this, costing users funds. How efficient and secured is your smart contract, and did you ever audit it via any external party?
Iris Le: We understand this risk. And yes. MALL tokens will be audited very soon. Currently, RareMall is considering choosing an audit firm and expects to audit MALL tokens when launching Initial DEX Offering.
Q6: Can you give an overview of your Tokenomics, and the UTILITY of Token?
Iris Le: RareMall is governed and supported by native and fungible MALL tokens. MALL is an ERC-20 based token created on Binance Smart Chain and can be used in a wide range of activities.
👉 Payment: MALL is the main payment unit to pay transaction fees on RareMall.
👉 Advertising: MALL holders can use MALL to buy placements to put their NFTs on any online exhibitions.
👉 Royalty: MALL tokens are used to pay authors for their authorization rights as a secondary sale's commission.
👉 Lending/ Borrowing: Holders can put up NFT assets as collateral for a loan.
👉 Staking/ Earning: Holders can lock tokens in their wallet for a set amount of time to receive the rewards.
👉 Yield Farming: Holders earn fixed or variable interest by investing in a DeFi market.
👉 Governance: MALL holders have the right to vote for important changes of RareMall
Before launching IDO, we offer Seed and Private Sale rounds with discounts for our investors. Thus, the total capital we target is $5M. Each funding round will have different lock-up regulations and vesting schedules to ensure all investors' interests and avoid market inflation. You can check this out in our Whitepaper: https://raremall.com/RareMall_NFTs_Whitepaper.pdf.
Q7: Security and anonymity are always prioritized by BlockChain projects in the development of project platforms and technologies. So, does you have any technological solutions or plans to enhance user trust in these issues?
Mint: In code we trust. You can also audit the smart contract by yourself tho
Q8: How do you plan to spread awareness about your project in different countries where English is not good? Do you have local communities like Russia, Vietnam, Indonesia, Thailand, Korea, .. so they can learn easily and better understand your project? Or are you planning something that hasn't been developed in other regions yet?
Iris Le: Actually we need the time to segment our users to understand you better and treat everyone well with the most valuable activities and campaigns. Language is also an important aspect that we already made a plan for this. When our product launches, we will create Discord channel to support our users on technical and activities. We will set up different channels with different languages but must base on the majority and community votes.
Q9: Do you have tutorial videos so we can get to know your project more clearly or do you have a YouTube channel or something? can you share it with us?
Iris Le: Burning token can be a strategy to boost our token value but it may be in our long-term plan. When our project can bring value to the mass markets and great groups of users, our token is popular for trading. It will make sense
Q10: Do you have a Token Burning plan to increase Token value and attract Investors to invest?
Mint: Yes, we have. You can check it on Youtube with the name ''RareMall NFT Marketplace'', be our subscribers and waiting for new videos coming very soon. Regarding the way of experiencing RareMall, it is designed to be as friendly as possible for anyone even you haven't had any experiences with other marketplaces before. Don't worry!

It's time to announce the winners of RareMallNFT in-house 🏠 AMA!
Live questions rewards belong to 10 winners ($20 each)
1. @HaydeeElliott123
2. @katoharu000
3. @HettieRoche
4. @Fionaweber90
5. @Hazeldavis
6. @LanetteLockhart
7. @SaulOverton
8. @DonellaMccarty
9. @Jacobgomez
10. @LekishaWenger

Congratulations winners!⭐️⭐️⭐️
Kindly send your BSC wallet address to @Davidsmart44
Note: The rewards will be distributed to winners within 24 hours😍