RareMall: The journey of growing constantly with NFTs diversity
Digital collectibles exchange has become more and more popular in the entire world. This trend leads to the explosive growth of NFT marketplaces. However, most marketplaces still feature a limited variety of NFTs which are Gaming and Digital art products.
Until recently, gaming has been mostly centralized as all data, assets, and in-game currency are generally limited to a specific game itself, not to mention the ownership of such items is that game's developer. The development of blockchain finally saw the decentralization of gaming where items attained in one game could be exchangeable and used in another. Furthermore, now gamers can even get real-world value from digital gaming assets.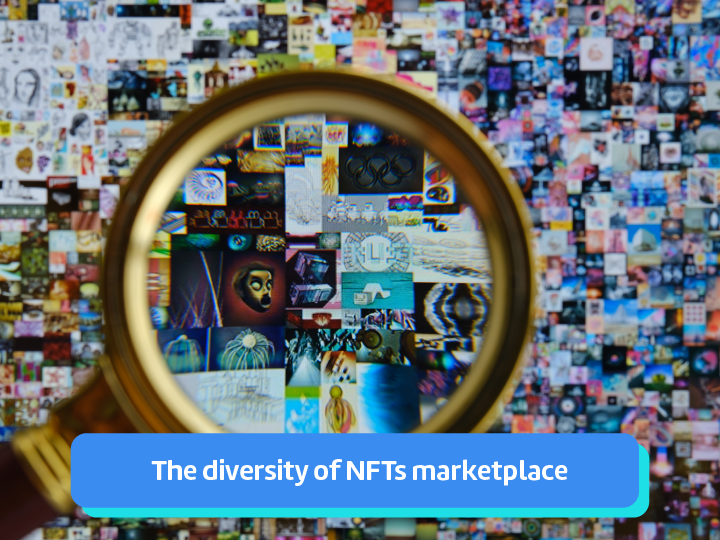 Thanks to an emerging technology of digital ownership. NFTs are having their big-bang moment: collectors and speculators have spent more than $200 million on an array of NFT-based artwork, memes and GIFs in the past month alone, according to market tracker NonFungible.com, compared with $250 million throughout all of 2020.

What RareMall offers
RareMall environment facilitates the tokenization of unique arts, virtual game items, online gaming videos, domains, memes, music into NFTs and continues evolving the aim to tokenize every unique idea asset into NFTs.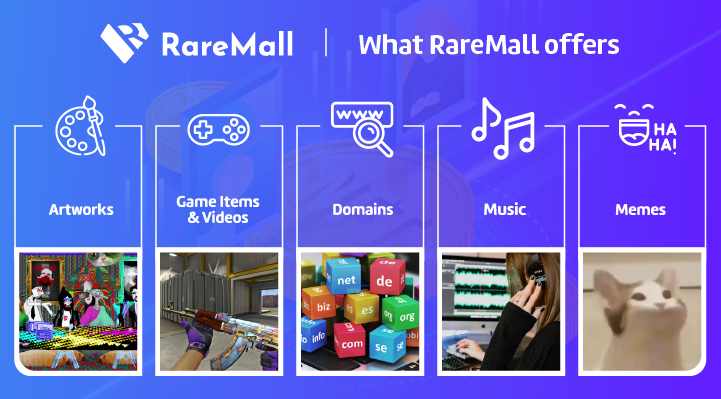 Artworks: RareMall helps artists and content creators distribute their products by tokenizing them into NFTs. It will be incredibly easy and great if every artist can have and develop their own profile pages with their art products, sell them with the price they deserve. At RareMall, artists can also experience how we help them to raise pricing evaluation by making the FOMO effect for each NFT with an auction live chat, which enables creators to set up a live chat during an auction for bidders to participate and make ongoing bids.

Virtual Games Items: Games items rank fourth in NFT products with high revenues and are considered as a lucrative investment field when game developers are realizing the value of game tokenization markets and the demand to have more platforms that support virtual reality (VR) and augmented reality (AR) develop. In addition to that, artists are also expected to create more digital and virtual assets. RareMall aims to help the gaming community to have more activities and add tremendous value upon joining.

Online Gaming Videos: RareMall intends to better adapt the value proposition to online gamers. That is the reason why we bring about a platform where members of the gaming community can exchange game-related NFTs. This feature will also enhance the community building in RareMall.

Domains: Anyone can earn money if they own domain names that others may be longing to possess. RareMall platform enables domain collectors to acquire unique, rare, or meaningful domain names. The platform also provides reliable and convenient exchange, collection, exhibition, and auction for all collectors.

Memes: RareMall also supports viral memes - one of NFTs trending types. We make it possible for sellers to create a landing page for each viral meme for token sales, auctions, and engagement. Sellers on RareMall can also run ad campaigns to drive a higher conversion rate of Memes sales.

Music: RareMall empowers the music world by enabling musicians and producers to create NFTs and distribute their music to worldwide audiences. We also offer both single & multiple NFTs with a diversity of pricing settings. Artists on RareMall can also get royalties whenever their music items are bought. This is really an exciting perk for music producers as now they can monetize their products easily and conveniently
The assets of Non-fungible tokenization on RareMall will keep growing with the trend and innovation.

Contact us
🌐 Website: https://RareMall.com/
💬 Twitter: https://twitter.com/RareMall_NFTs
💬 Telegram: https://t.me/RareMall_nfts
📩 Email: [email protected]